FishOnFishCamp
Marathon Florida Extreme Fishing Experience

Two Conchs SportFishing YouTube TV Personality Capt. Jack Carlson and Coastline Marine Extremes Owner and Boat Expert Doyce Heinzmann Present……….
"Fish On" Fish Camp
•
7 Nights Stay @ Coastline Marine Extremes Luxury Resort Rental Home in Marathon Florida
•
3 Full Extreme Days Fishing with the legendary Two Conchs Sportfishing Crew learning the tricks of the trade and catching fish in the Keys! Additionally seminars:
Cast net Throwing, Knots & Riggs, Electronics, Kite Fishing and more.
Including:
*1 Day Gulf Wreck Fishing for Cobia, Permit, African Pompano, Goliath Grouper, Snapper, Gag Grouper, Sharks, Cudas & More!
*1 Day Ocean Reef/Wreck Fishing for Large Mutton Snapper, Grouper, African Pompano, Mangrove & Yellowtail Snapper, Amberjack & More!
*1 Day Offshore Trolling, Live Baiting, Vertical Jigging for Mahi-Mahi, Wahoo, Blackfin Tuna, Sailfish and more!
•3 Extreme Days with Coastline Marine Extremes Boat Captains Course and MORE FISHING!
Learning:
*How to Navigate Marathon Waters
*Water Safety
*Boat Maintenance and Problem Solving
*How to operate a variety of electronics including:
GPS/Navigation Systems, DepthFinders and Transducers, Joystick Steering Systems, VHF Radios, Radars, Windlass Anchors, Boat Docking/Maneuvers, Satellite Rescue Systems, Fishing Apps, Spot Lights and More
Package includes:
• Boat
• Captain
• Bait
• Tackle
• Coolers with Ice
• Waters
What to Bring:
• Snacks
• Other beverages *no glass
• Sunscreen
• Polarized Sunglasses
• Performance L/S shirts
• Jacket (weather appropriate)
• Face Shield
• Any Other Personal Belongings You Like
*Special Notes*
*fishing license supplied by Two Conchs for the days on the Two Conchs vessels, however, a separate Florida fishing license will be required on Coastline Marine Extremes vessels.
*Lunch will be supplied on "Two Conch" Days. You will be responsible for your lunch on other days as well as other meals.
*guests have access to the kitchen and BBQ island to prepare meals and will be provided with a list of recommended local restaurants.
*fishing equipment available for rent or purchase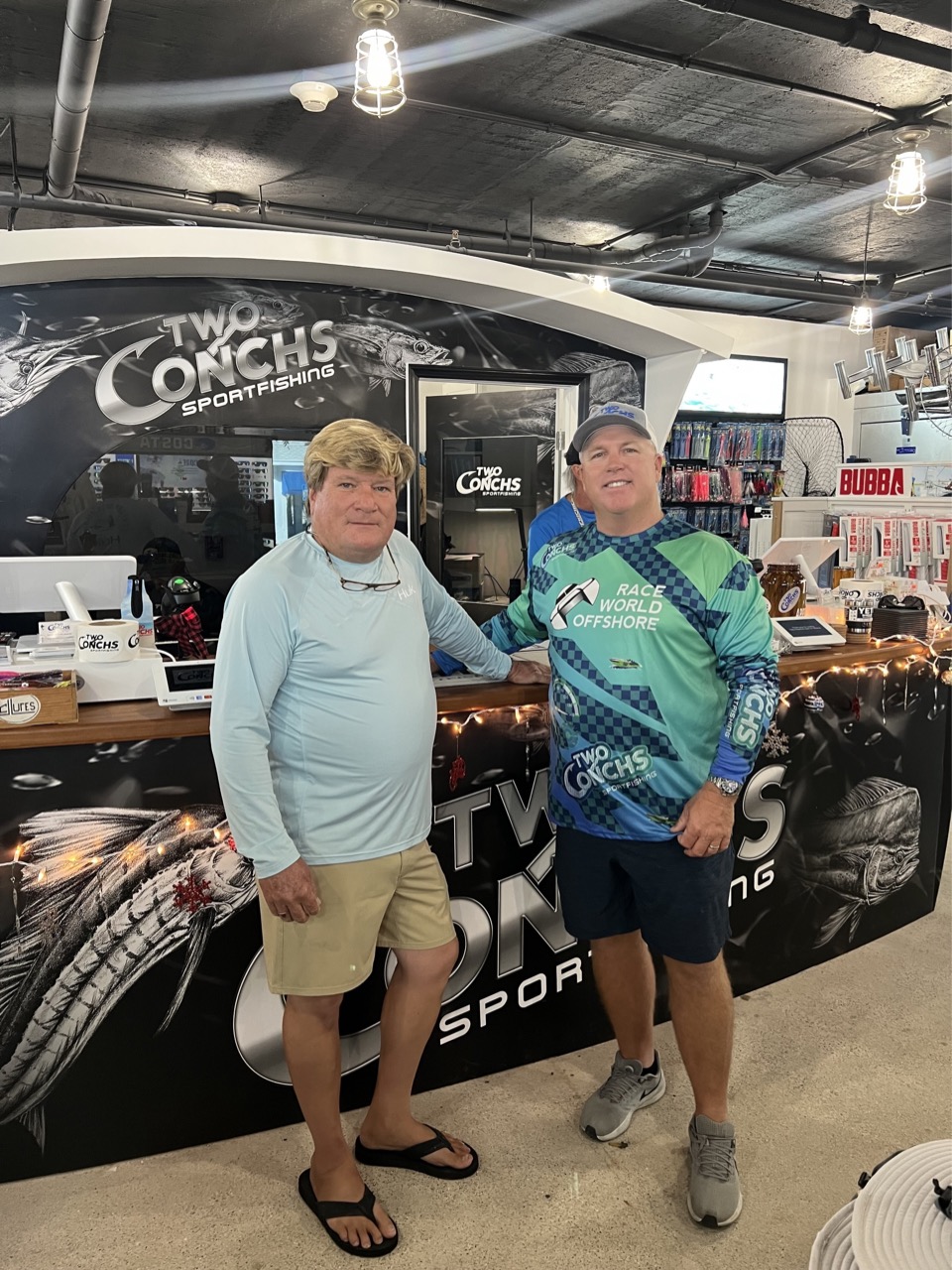 Package price:
Individuals week: $4599 per person
(Maximum occupancy: 4)
Available weeks:
November 25-December 2
April 13-April 20, 2024

Couples week: $6249 per couple*
(*Price is based on both persons fishing)
(Maximum occupancy: 4 couples)
CALL FOR AVAILABLE GROUP DISCOUNTS!!
Available weeks:
March 9 - March 16, 2024

Call now to inquire about availability.
843-458-3999 - Doyce Heinzmann, Coastline Marine Extremes